Senatus Populusque Romanus
The Senate and People of Rome
Some of the soldiers I served with in Iraq talked about getting an
SPQR
tattoo. "The Senate and People of Rome" was the motto of the Army of the greatest and longest lived empire in the ancient world. Although it's demise can be dated around 472 A.D. it arguably continued through the Roman Church and the empire in Constantinople through the present day. The Roman form of government had a revival in the high regard our Founding Fathers had for Rome and its government. The founders of America were sophisticated, multi-lingual men who thought Paris the center of civilization. They were men of the Enlightenment who thought theocracy and fundamentalism just as misguided as we think it is today.
I thought about the tattoo as I started yet another book by
Hannah Arendt
, a collection of her essays titled
Between Past and Future
. The introductory essay begins by saying the title is a description of Janus, the Roman god of beginnings.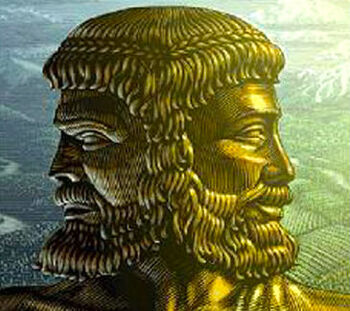 Janus, the god of beginnings looking forward and back
Janus is the god of the daybreak, of the first day of every month and the first month of the year: JANU-ary.
The doors of the temple of Janus (the "Gates of Janus") were closed in times of peace and open in times of war.
The essay reminded me that the early leaders of Rome, as well as emperors as late as Vespasian, closed the doors of the temple of Janus with a great celebration marking victory. The gates were, of course, opened when the Roman army marched to war.
The soldiers in Iraq who thought of getting the SPQR tattoo saw the American Army in Iraq and Afghanistan as a revival of the Roman Army, making us the modern legions of that Army. With armies, ships, aircraft and space vehicles circling the globe, America is a more global army than Rome could ever have dreamed of.
The soldiers did not know, nor did I at the time, that the SPQR tattoo was not for native Roman soldiers, but for mercenaries, slaves and gladiators. Tattoos were not for citizens and were considered something for the low classes.
The Roman government brought the idea of justice for all citizens of an empire into practice for the first time in human history. That government relied on both law and tradition to continue and thrive for most of a millennia. It thrived with men like Marcus Aurelius, for me the best of all the emperors, and survived horrors like Nero.
America has not closed the Gates of Janus since August 1945 with the defeat of Imperial Japan shortly after defeating Nazi Germany. With the Cold War beginning in 1947 followed by the Gulf War and the War on Terror, we may never close The Gates of Janus again.